From collection Member List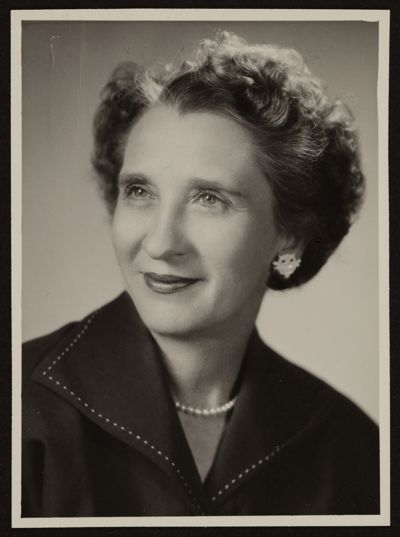 Edwynne Cutler Pendergast Rosenbaum (Beta Gamma-Colorado), better known as "Polly," was a beloved state legislator in Arizona and a champion of equality for women.

Polly was born in 1899 in Ollie, Iowa, grew up in Colorado, and studied history and political science at the University of Colorado, where she was initiated into Beta Gamma Chapter in 1925. Polly went on to earn a master's degree in education from the University of Southern California, after which she taught shorthand, typing, and history to students in the mining camp of Hayden, Arizona. There she met the state legislator William George Rosenbaum, whom she would marry in 1939, and began serving as a stenographer for the Arizona state legislature.

When her husband died unexpectedly in 1949, Polly was appointed to complete her husband's term in the Arizona House of Representatives. She went on to serve 22 consecutive terms, representing the fourth district until she retired in 1995 at the age of 95, the longest-serving state legislator in Arizona. During her time in office, Polly was the first woman to chair the House Administration Committee and in 1968, with a group of other female colleagues, eliminated gender-based discriminatory language from the state constitution. In 1982, the Arizona House of Representatives unanimously honored her with the title "First Lady of the Arizona Legislature."

Polly advocated for education and women throughout her long career. She played a critical role in the development of Arizona's community colleges and libraries and helped establish the Arizona Women's Hall of Fame, into which she herself was posthumously inducted in 2006. Alpha Phi awarded her the Frances E. Willard Award in 1990. Polly died on December 27, 2003 at the age of 104.
Birth Date
1899
Initiation Date
05/02/1925
Graduation Date
1922
Death Date
12/28/2003